Shipping Info
How much do you charge for shipping?
Contiguous U.S.
Shipping is $9.99 for all orders under $150. Shipping is FREE for all orders over $150 up to 60". For prints over 60" we will need to ship LTL Freight, please contact us for an estimate, or we will reach out to you once the order is placed.
Non-Contiguous U.S.
Shipping charges are based on destination.
How long will it take for my package to arrive?
We ship out of Irvine, California. Once you receive a tracking number, it can take anywhere from 1 to 5 days to arrive via Ground shipping based on your location. Please reference the map below to get an accurate estimate of how much time your package will take to arrive to you. Ground Shipping includes Saturday as a delivery day for home addresses.
Alaska delivers in 6 days and Hawaii in 7 days.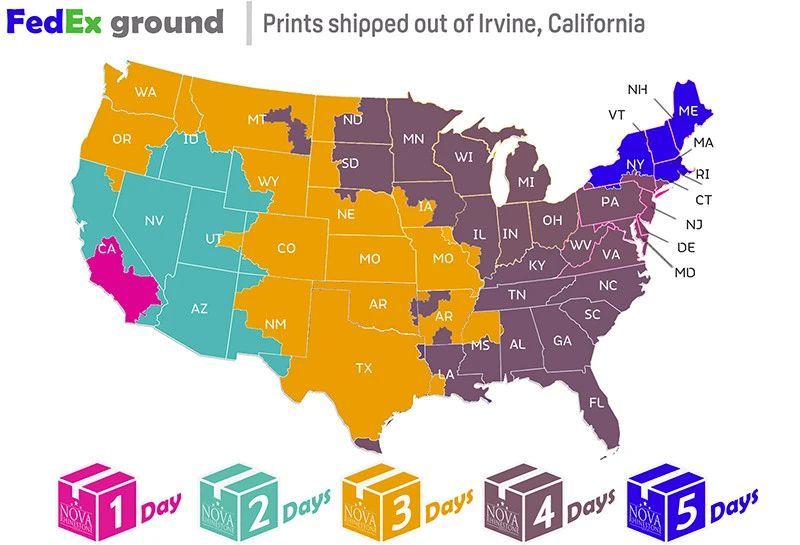 White Label Drop Ship Directly To Your Customers:
We can Drop Ship directly to your customers in white label packaging. White Label Packaging is generic; no invoices or anything that identifies Artbeat Studios as the producer of the prints are included with drop ship orders. Select White Label Drop Ship at checkout.
Does Artbeat Studios Deliver?
Yes. Artbeat Studios delivers for FREE within a 10 mile radius of our location and can deliver to the southern california area outside of the 10 mile radius for a fee.
What days does FedEx Deliver?
FedEx drops off ground packages between Tuesday and Saturday to residencial addresses and Monday through Friday to business addresses.
Will my package require a signature when it's delivered?
If your package is under $500 in value and you would like your package to require signature upon delivery, please request so in the notes section of your order. Artbeat Studios is not responsible for stolen packages.
Can I ship my order to multiple addresses?
Artbeat Studios ships to one address per order.
Can I ship my order to a P.O. Box?
Yes. USPS will be the designated shipping provider for all P.O. Box destinations.
Can I combine shipping between orders?
We cannot combine shipping for multiple orders.
What shipping carriers do you ship with?
FedEx and USPS