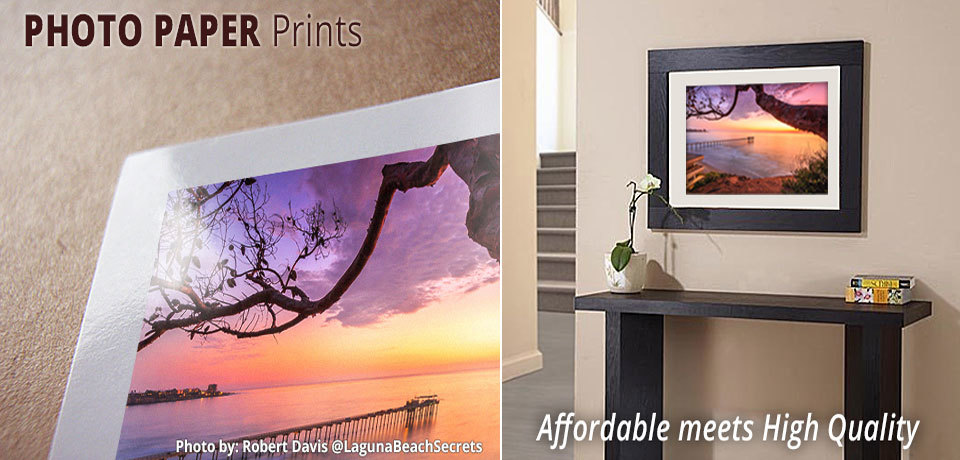 Photo Paper Prints
Our Photo Paper Prints are offered on glossy white and also
glossy metallic.
Our standard photo paper prints are printed on Vibrance Gloss 10mil heavyweight glossy photo paper, it was developed for photographers with a discerning eye who demand maximum color gamut, image resolution and dmax. We print on our Epson GS6000 printers using Epson UltraChrome® GS Inks, chosen for it's archival qualities.
Metallic Photo Paper,
Our glossy
Metallic Paper Prints
are printed on Vibrance Metallic 10mil high-gloss metallic photo paper. The colors show a beautiful
iridescence as your eyes move across the print.
Photo Paper Prints are a high quality but cost effective option for photographers to offer their customers. They can be sold as is or framed for a very high quality look that will last a lifetime.
Facebook Testimonial-
"
Just got my 24X36 print on photo paper today! I ordered just kind of as a test to see how it would turn out, as it is my first large scale print I have ever ordered. I'm in love with it and will definitely be a returning customer because I would love to see my prints on your metal! Thanks for the wonderful work you guys do here!"
-Aaron Sims
Pricing
Size
Price
8x10
9x12
11x14
11x17
12x12
12x18
12x24
16x20
16x24
18x24
24x24
20x30
24x36
30x40
36x36
36x48
40x60
$9
$10
$13
$16
$12
$17
$18
$28
$32
$35
$45
$45
$64
$74
$84
$113
$156