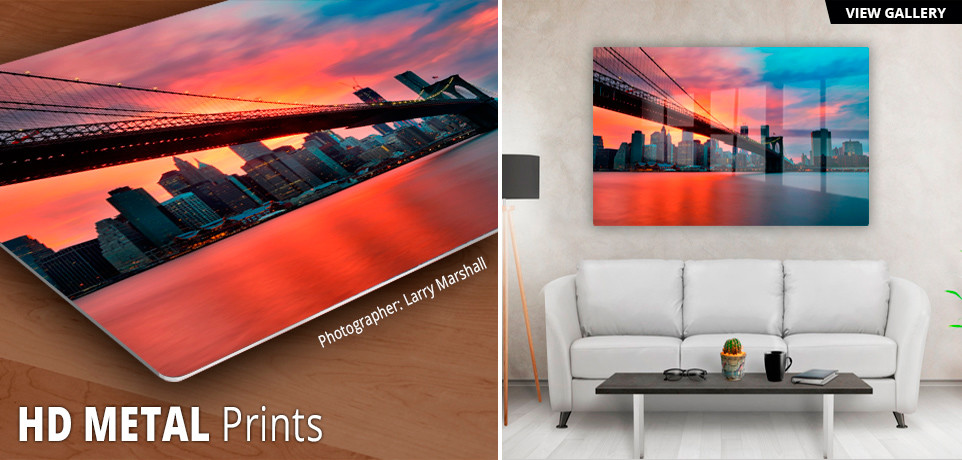 HD Metal Prints
What makes our Metal Prints the best?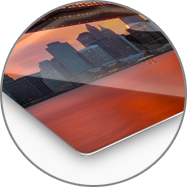 Heat Infused
We heat infuse your photo into a specially coated aluminum sheet creating a scratch, water and UV resistant print. We only use ChromaluxeTM brand aluminum sheets for superior quality.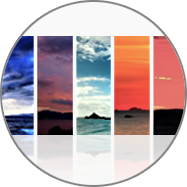 Superb Color
We know that our customers expect only the best in color quality. We maintain a strict commitment to color checking all prints to our color calibrated monitors before sending out.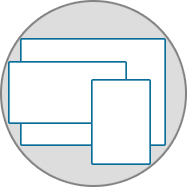 Custom Sizes
No need to crop your image to fit a standard size. Because we cut our aluminum in-house we can cut any custom size you would like up to 40x60" at no extra cost.
Facebook Testimonial- "I have ordered metal prints twice and have been ecstatic with the results both times. I have tried other metal printing companies but your quality and excellent customer service far exceeds anything I have previously encountered. You guys do fantastic work, and I will continue to utilize your services. Keep up the great work. I look forward to having more work done by you! "-Tiff Gray

Surfaces
White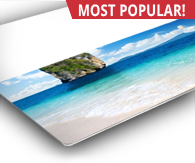 White is our most popular option. Photos printed on bright white are super vivid, showing every detail of the image. This is great for landscapes, wedding photos and family photos.
Silver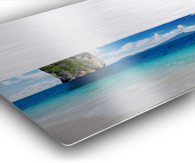 Silver is just as beautiful as bright white. The silver shines through as the whites of your image. This looks great with B&W photos and any photo with high contrast. Please Note: you will lose the finer details with silver.

Finishes
Glossy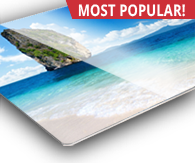 Glossy enhances the depth of your photo and adds a dramatic shine to any photo.
Matte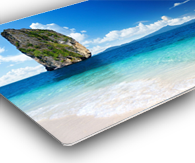 Matte adds a more subtle and simplistic look to your photo and will give you a glare free finish. 4 to 5 business day turn around if in stock. Call before placing order. Out of stock can take 3 to 4 weeks.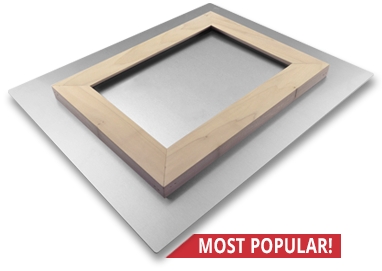 We use a sustainable natural birch wood. This is our most popular option and gives an organic feel to your print. The frame is 3/4" deep which makes your image appear to be floating off the wall.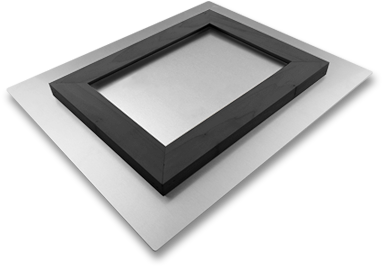 Black Wood
We start with the natural birch wood mount then paint it matte black. The frame is 3/4" deep which makes your image appear to be floating off the wall.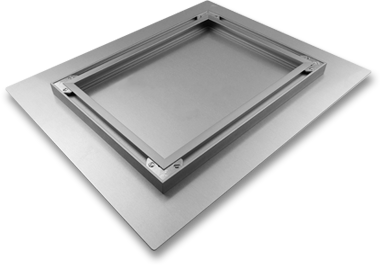 Silver Aluminum
We use a natural aluminum mount that pairs really well with the matching aluminum back and gives your print a elegant look. The frame is 3/4" deep which makes your image appear to be floating off the wall.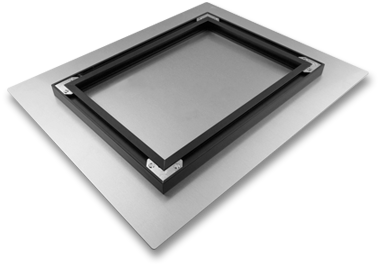 Black Aluminum
We use a black aluminum mount that contrasts nicely with the natural aluminum back. The frame is 3/4" deep which makes your image appear to be floating off the wall.
Wall Hanger
Wire Hanger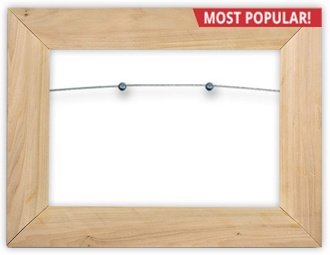 Wire Hanger
is our standard hanger included with your print. It is the most popular hanging option. This hanger is preferred by galleries. The image will slightly lean forward as opposed to our cleat option.
Cleat Hanger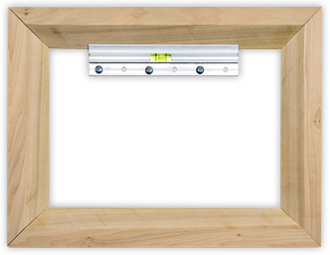 Cleat Hanger
is a really easy option to hang. It comes with a built in level and anchor screws. Once you screw it on the wall simply place your print onto the cleat. It will hold your print really tight against the wall. If you are reselling your prints your customers will appreciate this simple option.
Mount Style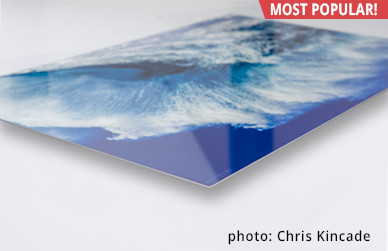 Recessed Mount
is our standard display option. With a recessed mount your print will appear to be floating off the wall 1". This is an simplistic and elegant way to display your metal print.
Flush Mount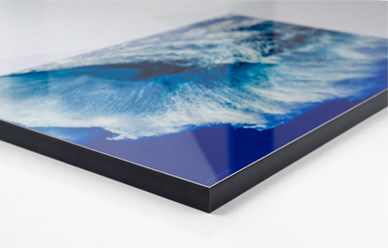 Flush Mount
is an option only available for aluminum wall mounts with your choice of
black or silver.
It gives your metal print added body. It does not float off the wall but fits snug onto the wall
Pricing
ALL PRICING INCLUDES WALL MOUNT AND
FREE SHIPPING OVER $150
Size
Price
8x10
9x12
11x14
11x17
12x12
12x18
12x24
16x20
16x24
18x24
24x24
20x30
24x36
30x40
36x36
36x48
40x60
$31
$38
$54
$73
$54
$82
$103
$104
$129
$145
$185
$175
$273
$345
$375
$499
$653
Add $3 per sq ft for Matte
Q: How long will it take for my HD Metal Print to arrive?
A: Estimated production time is 4-6 business days. Shipping can take 1-5 days depending on your distance from CA. Please see FedEx shipping map under the Support tab > Shipping Info to see when your print will arrive to you. Please contact us if you need your print by a certain date.
Q: What is the difference between Glossy and Matte and which should I choose?
A: Glossy is the most popular because the shiny surface enhances the image making it look more sharp and vivid, but if you will be displaying your image in direct light where the glare of the gloss is not preferred then we recommend you go with a matte finish.
Q: Will my HD Metal Print fade in the light?
A: Because the image is heat infused into the aluminum metal the inks are bonded with the metal creating a very long lasting print. Xenon Light Stability Testing has shown that HD Metal Prints last 2-4 times longer than traditional photo based silver papers.
Q: Are all Metal Prints alike, and why do you call yours HD Metal?
A:
All metal prints are NOT alike, there are 2 common ways to make metal prints;
1. Printing the ink directly on top of the metal
or
2. Infusing the inks into the metal with pressure and heat.
For our HD Metal Prints we use option 2, infusing the ink dyes into the metal. This creates a very High Definition print that is scratch resistant and water proof. We do also offer option 1 with our Brushed Aluminum Prints because some people prefer a more artistic look, but they are not scratch resistant nor waterproof.
Q: Does your company offer drop shipping?
A: Drop shipping is available on all orders. We can ship your product to your customer with no invoice or with custom invoicing upon request.