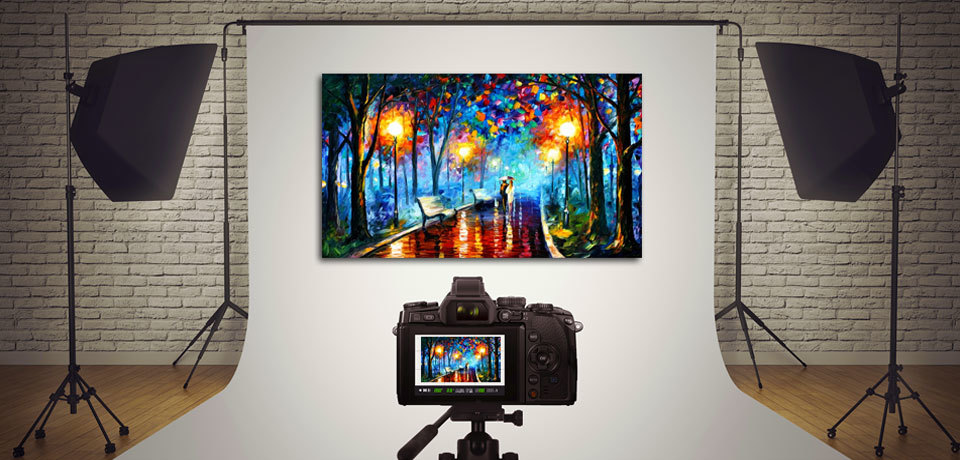 The first step in reproducing your masterpiece!
We have talked to countless artists who wish they had scanned their original artwork before selling it. The value of reproductions can far outweigh what you sold the original for. Utilizing our high quality camera system and studio lighting we are able to capture the detail and colors of your original painting at a very high resolution. We guarantee that once you see the quality of your scan even zoomed all the way in at 500%, you will be never want to reproduce your paintings in any other way. We have a 100% money back guarantee if you don't like what you see while in our office. Of course once we send the file to you we will not be able to offer refunds.

We typically can enlarge your painting by 200-300% and still achieve impressive reproductions on any medium. You will receive printed proofs on art paper or canvas. Once you are happy with the finished scan we can then profile your art for the specific material you want to print on, whether its wood, metal, acrylic or canvas. We save your profiles so next time you order you can be assured the print will match first reproduction. This is very important for our customers that we drop ship for as you are trusting that we are sending out quality product to your customers. Another idea our artist clients have created. Call now to make an appointment!
Q: What if I already have my artwork scanned in?
A: Great, if you have seen your art files printed elsewhere and are happy with the results we can start printing! If you need simple color correction and proofs the fee is only $25.
Q: Will my artwork be safe when left with you?
A: YES, we understand these are originals and very valuable to you and we take great care of your art. When not shooting we wrap your art and store in the office area of our building.
Q: Do you offer discounts if I have multiple pieces for you to scan?
A: YES, we do offer a 20% discount if we scan in 5 or more pieces per session.
Q: My painting is very high gloss, will it scan in well?
A: Although we always recommend artists have us scan their artwork scanned before they gloss coat, we can still reduce almost 100% of the glare when scanned.
Pricing
$75
per image capture*
* Includes color correction
* Includes small image for social media
* Final image sent by Dropbox
$45
for artwork 11x17 and under
$95-$120
for artwork larger than 30x40
Because are are centrally located near the John Wayne Airport in Orange County, CA, we are very accessible for our Los Angeles and San Diego clients. Some people refer to this service as an art scanning service and don't realize that most art reproduction companies utilize digital capture via a camera system. Scanning was the preferred method until cameras technology caught up to scanning technnology. Digital capture by camera allow us to have better control of light and color as well as reducing glare from glossy artwork. We are confident you will be pleased with the quality and detail of our digital art capture services and look forward to you visiting our Orange County office.