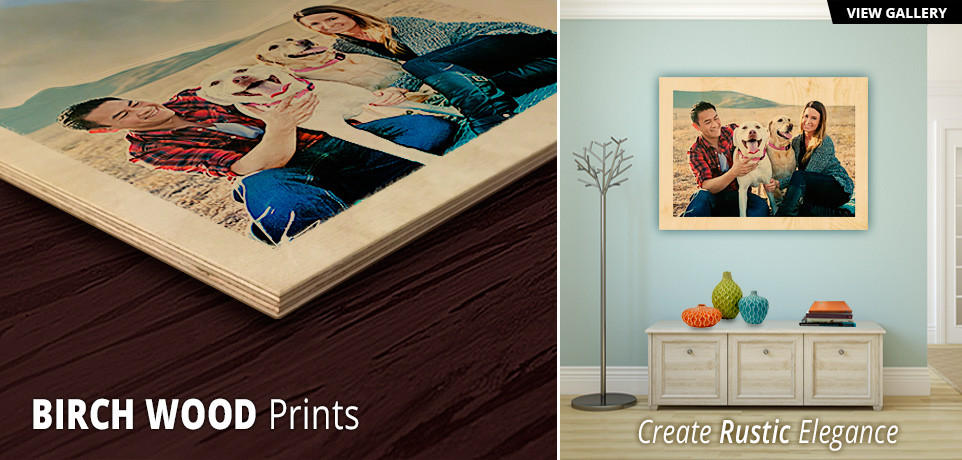 Custom
Wood Prints
are eco-friendly and very distinct
Our Custom Wood prints are printed directly onto sustainable 3/4" birch wood. We etch the back of the wood to create a unique artistic look and so that we don't have to attach any awkward hanging mechanisms. You will love the way your finished wood print will appear to be floating off the wall. We offer a gloss natural, a matte natural and a bright white finish to suit may different tastes.
Our Wood prints give photographers and artists a more unique option to offer their customers. Not everybody wants paper prints or glossy metal, some people prefer something completely different. The distinct natural wood grain also means that no two prints are exactly alike.
2 Finishing Options
Gloss Natural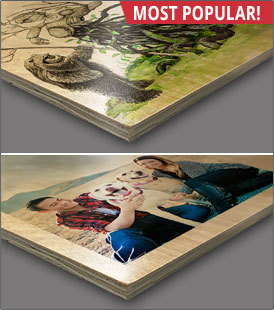 Gloss Natural shows the natural wood grain through the image with a glossy finish. It looks great with most images but especially with landscapes and images with a lot of negative space.
Bright White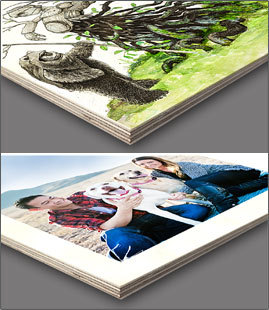 Bright White does not show any of the natural grain through. This finish is great for images that have a lot of white, such as wedding photos, portraits or images with fine details. For those who like the idea of printing on wood but want to maintain the look of their original image.
Hanging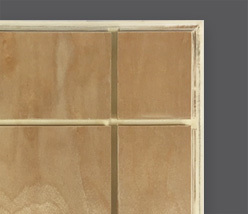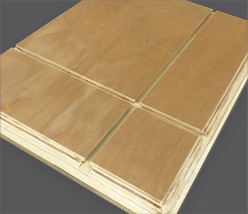 Our wood prints come ready to hang out of the box! No need for any framing at all. We wanted to create a wood print that was not only beautiful from the front but also the back. This is why we decided to spend the extra time to etch the back out of one piece of wood, as well as etching out hanging slots so you can easily slide the print onto a screw for quick securing hanging.
These prints are a perfect gift idea for anniversaries, weddings, birthday's, fathers day, mother's day or any day you want to surprise a loved one. Wood prints are gaining popularity because they are eco-friendly and a very unique way to display your photos and art. Our customers are amazed at the high resolution achieved when direct UV printing onto the wood. We are conveniently located in Irvine, Orange County, California, very local to our Los Angeles and San Diego customers, but we ship all over the country as well. Artbeat Studios is the only fine art wood printer you will ever need!
Pricing
ALL PRICING INCLUDES WALL MOUNT AND
FREE SHIPPING OVER $150
Size
Price
8x10
9x12
11x14
11x17
12x12
12x18
12x24
16x20
16x24
18x24
24x24
20x30
24x36
30x40
36x36
36x48
40x60
$38
$43
$54
$62
$50
$74
$95
$101
$114
$127
$157
$149
$232
$293
$318
$424
$555
Q: How long will it take for my Wood Print to arrive?
A: Estimated production time is 5-7 business days. Shipping can take 1-5 days depending on your distance from CA. Please see FedEx shipping map under the Support tab > Shipping Info to see when your print will arrive to you. Please contact us if you need your print by a certain date.
Q: How do you print on wood?
A: We first cut each piece of wood in-house with our CNC machine, then we print directly onto the wood with our 4x8' flatbed UV ink printer, one piece at a time to ensure the highest quality.
Q: Will my wood print fade in the light?
A: Because we use fade-resistant UV inks, your wood print will be more durable and longer lasting than traditional canvas prints. Even at full sun exposure outdoors your prints would not start to fade until 4-5 years.
Q: What type of wood do you use?
A: We use sustainable 3/4" birch plywood. Our process starts with sorting through many large sheets at the mill to choose only the best in both construction and appearance.
Q: How do I care for my wood print?
A:
You take care of your acrylic print as you would any other piece of fine art, very carefully. Because we print directly onto the wood they will scratch with enough pressure. We don't coat the ink after it's printed to maintain the natural look of the wood. When cleaning use only a 100% cotton or microfiber cloth to dust your print. If your wood print does get wet don't worry, the ink won't smear, just dry it with the same cloth you use to dust it. They will also do well in your bathroom, just wipe off any condenstation that forms on the wood print.
Q: Does your company offer drop shipping?
A: Drop shipping is available on all orders. We can ship your product to your customer with no invoice or with custom invoicing upon request.