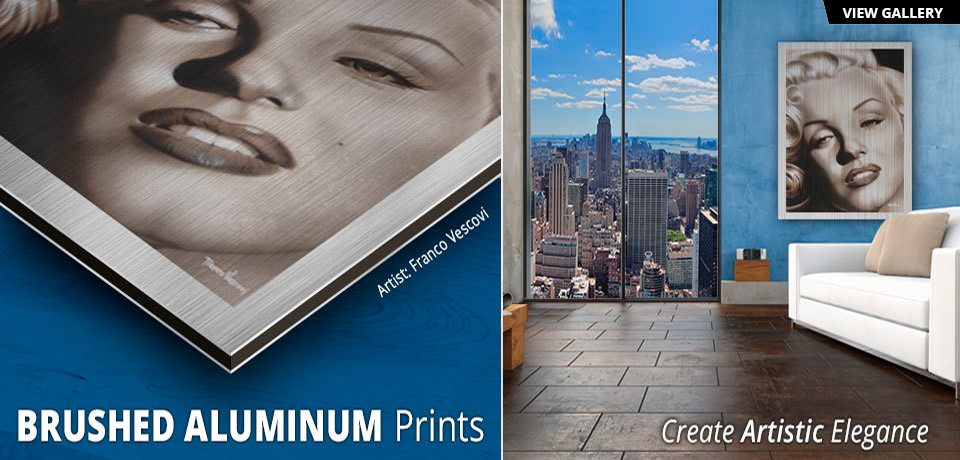 Brushed Aluminum Prints
Unique features of Brushed Aluminum prints.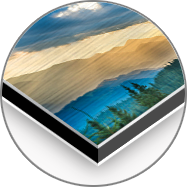 Direct UV Printed
We print directly onto the our 1/8" thick brushed dibond aluminum with UV inks that are resistant to fading. The whites of your image show through as an iridiscent silver giving your image an artistic look.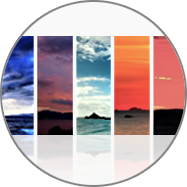 Shimmering Colors
Because the brushed aluminum is highly reflective, any white and light colors will shimmer in the light creating a unique appearance. This will look best with high contrast images.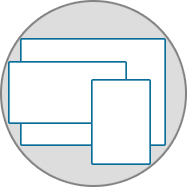 Custom Sizes
No need to crop your image to fit a standard size. Because we cut our aluminum in-house we can cut any custom size you would like up to 48x96" at no extra cost. This is great for panorama shots.
Facebook Testimonial- "I ordered a 20x20 brushed aluminum print from ABS which arrived late last week. My first order with these guys and I am blown away by the quality of the image. I have not seen brushed aluminum as a medium before. It is unusual and shimmers with the light. It really works for the image I chose. I'll be ordering more on different media in the future. Thanks guys!"
-Paul Cutright

Wall Mount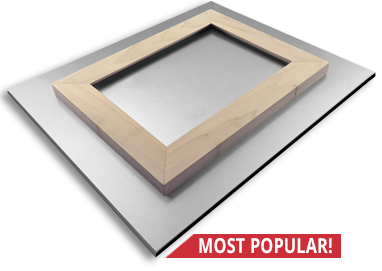 We use a sustainable natural birch wood. This is our most popular option and gives an organic feel to your print. The frame is 3/4" deep which makes your image appear to be floating off the wall.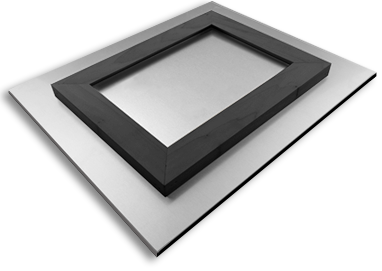 Black Wood
We start with the natural birch wood mount then paint it matte black. The frame is 3/4" deep which makes your image appear to be floating off the wall.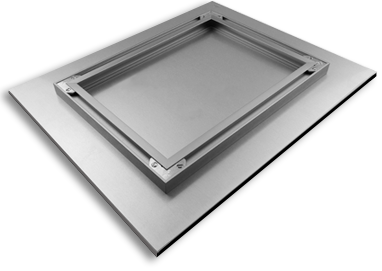 Silver Aluminum
We use a natural aluminum mount that pairs really well with the matching aluminum back and gives your print a elegant look. The frame is 3/4" deep which makes your image appear to be floating off the wall.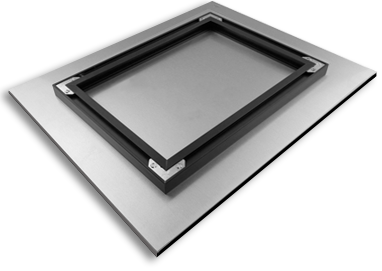 Black Aluminum
We use a black aluminum mount that contrasts nicely with the natural aluminum back. The frame is 3/4" deep which makes your image appear to be floating off the wall.
Wall Hanger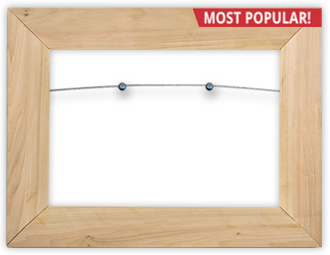 Wire Hanger
is our standard hanger included with your print. It is the most popular hanging option. This hanger is preferred by galleries. The image will slightly lean forward as opposed to our cleat option.
Cleat Hanger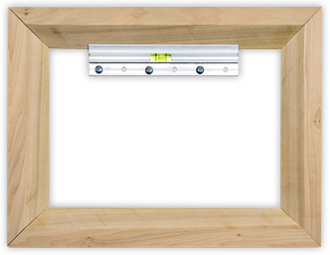 Cleat Hanger
is a really easy option to hang. It comes with a built in level and anchor screws. Once you screw it on the wall simply place your print onto the cleat. It will hold your print really tight against the wall. If you are reselling your prints your customers will appreciate this simple option.
Pricing
ALL PRICING INCLUDES WALL MOUNT AND
FREE SHIPPING OVER $150
Size
Price
8x10
9x12
11x14
11x17
12x12
12x18
12x24
16x20
16x24
18x24
24x24
20x30
24x36
30x40
36x36
36x48
40x60
$38
$43
$54
$62
$50
$74
$95
$101
$114
$127
$157
$149
$232
$293
$318
$424
$555
faqs
Q: What is the difference between Brushed Metal and your HD Metal?
A: Our Brushed Metal Prints are printed directly onto the metal with UV inks and the aluminum shows through as the whites of your image. The HD Metal is dye infused into the metal with heat and pressure. The Brushed Metal has a more artistic look and is recommended for images with high contrast.
Q: How long will it take for my Brushed Aluminum Print to arrive?
A: Estimated production time is 4-6 business days. Shipping can take 1-5 days depending on your distance from CA. Please see FedEx shipping map under the Support tab > Shipping Info to see when your print will arrive to you. Please contact us if you need your print by a certain date.
Q: How do I care for my Brushed Aluminum Print?
A: Because we print directly onto the aluminum you will need to handle your print like any piece of fine art, very carefully. They will scratch with enough pressure. If you need to clean your print use a microfiber cloth and water.
Q: Will my Brushed Aluminum Print fade in the light?
A:
Because we use fade-resistant UV inks, your Brushed Aluminum Print will be more durable and longer lasting than traditional canvas prints. Even at full sun exposure outdoors your prints would not start to fade until 4-5 years.
Q: Does your company offer drop shipping?
A: Drop shipping is available on all orders. We can ship your product to your customer with no invoice or with custom invoicing upon request.